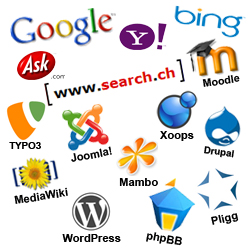 CMS is the abbreviation for Content Management System. This is a tool that gives you the possibility to edit your website yourself without having to consult a webmaster. This tool is very useful and can make you save a lot of money on the maintenance of your website.
Search engine optimization of CMS driven websites can sometimes be fastidious. For this reason our SEO lab has spent a lot of energy in the past years in order to provide efficient solutions. We developed different solutions in order to overcome the different challenges encountered with CMS created pages.
One of the most popular CMS is Joomla. Due to its great ability to be customized for search engine optimization we strongly recommend it if you need to choose a CMS for your website. Find out more in the page dedicated for Joomla search engine customization
In order to optimize a website driven by a CMS for search engines it needs lots of experience. There is no magic tool or recipe to do so.
The combination of server settings adjustment, added plugins to your CMS and fine tuning of existing components will be necessary. Based on the knowledge of our SEO lab we now optimized successfully many CMS projects for search engines.
Our team has now gained experience on many different CMS like:
Joomla!
WordPress
Drupal
Moodle
Sefrengo
and few other less famous CMS used by our different customers.