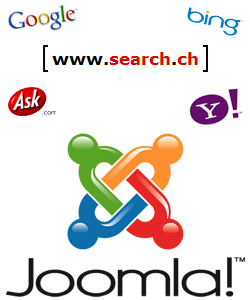 Place your Joomla website in the top result of Google
Joomla is a content management system
Our SEO Lab invested a lot of time the past years in the search of solutions, creation of SEO modules and optimization of existing modules. We created and applied strategies for many different projects, monitored them and adjusted them. We are proud to announce that all the projects we worked on are a great success. Thanks to our experience in search engine optimization for Joomla we are able to optimize websites from a simple online company presentation to multilingual online shops.
In order to optimize your Joomla website for search engines, different actions will be needed. Find below a list of steps needed. Other interventions could be necessary, each website is unique. The list below shows only typical necessary steps, you may not need all or you may need some custom work depending on your website.
Ask for your personal offer using our contact form
Some tend to say that you need this module or this template or activate the SEF URL module and you will come out in search engines. The truth is, there is no unique action that will make you come out in search engines. No miracle recipe!
Some unique actions may make a big difference, but the best SEO module will be useless with a poor template. Or if the content of your page is not optimized the best template will not help.

The strategy will include the different actions your website needs, to show on top of the google results. Here is a list of typical "ingredients" for the recipe of success but not limited to:
Search engine friendly URL
The URL is the name of your page, you see it on top of your browser in the address bar, it should look like this: http://www.yourwebsitename.ch/yourservice.html. If it is not optimized it will more look like this: http://www.yourwebsitename.ch/#hl=en&&sa=X&psj=1& ei=qloTTce4HY2zhAfpoJm3Dg The URL should be search engine friendly and human friendly.If your URLs contain signs like &,% or? we will need to use a component in order to rename these names.
This is the first step to check and correct, otherwise any optimization work will be in vain. Depending on the website it can be a very small intervention. For multilingual websites or depending on the modules you use an additional SEF module will be necessary as well as some fine tuning.
Search engine friendly template
The layout or design (look and feel) of your website is made with the template. Many templates are available to download on the web, but only few are well optimized for SEO, even if they say they are. Based on the many years of experience of our SEO Lab we have developed some very useful and flexible SEO friendly templates.
Of course we can manually optimize any existing template so that your template that has been customized for your needs also becomes SEO friendly.
SEO modules
Your important information and keywords describing your service must be well placed on the page to be found by search engines. A Joomla website will not let you place the text and titles where you want, all will be in the article and be placed in the content area.
In order to optimize that, you will need some SEO modules. At least one keyword placement module and one short cut module or seo link module.
We have developed several modules that overcome all weak points of Joomla CMS for search engine optimization. You can buy them, install them yourself and learn how to use them or you can let our Joomla SEO specialist do that for you.
Optimization of the module, components and plugin in use
Most probably you use different components or modules for your Joomla website. Some modules may be a great help for search engine optimization and some can be a barrier. Sometimes the combination of 2 modules could be interfering with the SEO work. During the analysis of your website we will find out the exact situation and what needs to be done in order to render your website SEO friendly. Our Joomla developers know exactly how to customize any module to make them SEO and human friendly.
SEO friendly navigation
The navigation on your website is the way visitors can navigate to the different pages and areas of your website. First of all, this must be user friendly in order to make it easy to find all your services. The same applies to search engines, they must be able to find your pages and services easily. Our work will be to connect all your pages in a way that search engines find them easily and most important file them in the right place and show them in the search result in the top of the appropriate categories. For this we will work on your internal links, your menu, your XML and HTML site maps.
SEO friendly menu
The menu is the buttons on your website on which visitors can click to access the different parts and pages of your Joomla website. To be listed on top in search engines like Google, it is important that the buttons are readable by search engines and that they understand what service or text will be on the page they link to. In some cases we need to completely replace the menu with a more SEO friendly menu. If this is necessary our Joomla SEO specialist will be able to do that work without disturbing the look of your website. Most of the time we were able to provide the same visual effect with different technology (that was more SEO friendly). This way your website still looks exactly the same for the visitors but the search engines can follow the buttons easily.
SEO friendly content
The content is your text in the articles (pages) of your Joomla website. All the technical work done on the website will be for nothing if your text is not relevant. First we will make sure your text is relevant and value-added. Once this is done we will need to optimize it for search engines also. In order to achieve the top position in search engines your text must also be optimized, this work is called SEO copywriting.
This is not connected to Joomla SEO, it is so for all websites.